Prevent
Stop further wrongdoing and prevent future incidents.
Early detection, disruption, robust case presentation and analysis of investigations are all strategies to prevent wrongdoing from taking place. Whatever stage of your Intelligence or Investigation process, Clue enables users to identify opportunities to prevent further wrongdoing, protect vulnerable parties and prevent future crimes or incidents.
Act on threats early
Detect threats early with automated alerts and links generated automatically between connected Entities.
Automate workflows to achieve faster response to new referrals.
Correlate new information against existing intelligence in Clue and other systems.
Prosecute and deter  
Create case files quickly and easily by selecting evidence, additional links and attachments.
Format custom report templates compliant to specifications required of authorities.
Collaborate on reports, notices and case files simultaneously with other users.
Discover new trends and threats
Visualise and present data with Clue Dashboard, filtered views, and charts and mapping to identify trends and surface insights.
Easily and securely export data for deep analysis by third-party tools via Clue API and Integrations.
"The fraudsters we are up against are forever adapting as technology changes and improves, making the frauds more complex and harder to track. Clue helps us link incidents together, to create more complex, linked investigations."
Three UK
Features
Data capture
A range of data capture options, including direct, manual and automated, ensures your Clue Information Registers securely captures rich intelligence from multiple sources.
Search and linking
Connections between Entities are identified instantly, and intelligence can be quickly surfaced using Clue's powerful search feature. Users can annotate intelligence records to provide additional information.
Registers and Entities
All data is securely recorded in Registers and associated Entities, ensuring data is available to identify trends and connections. Our Golden Nominal principle ensures an Entity exists just once in your Clue system.
Data exchange
Via secure Clue API, your system is readily integrated with commonly used applications in Clue marketplace to export data to third-party tools, and securely receive data from external sources.
Visual insights
Data visualisation functionality enables you to present intelligence in visual formats. Add charts and maps to provide contextual insight to your reports and clearly show links between Entities and Records.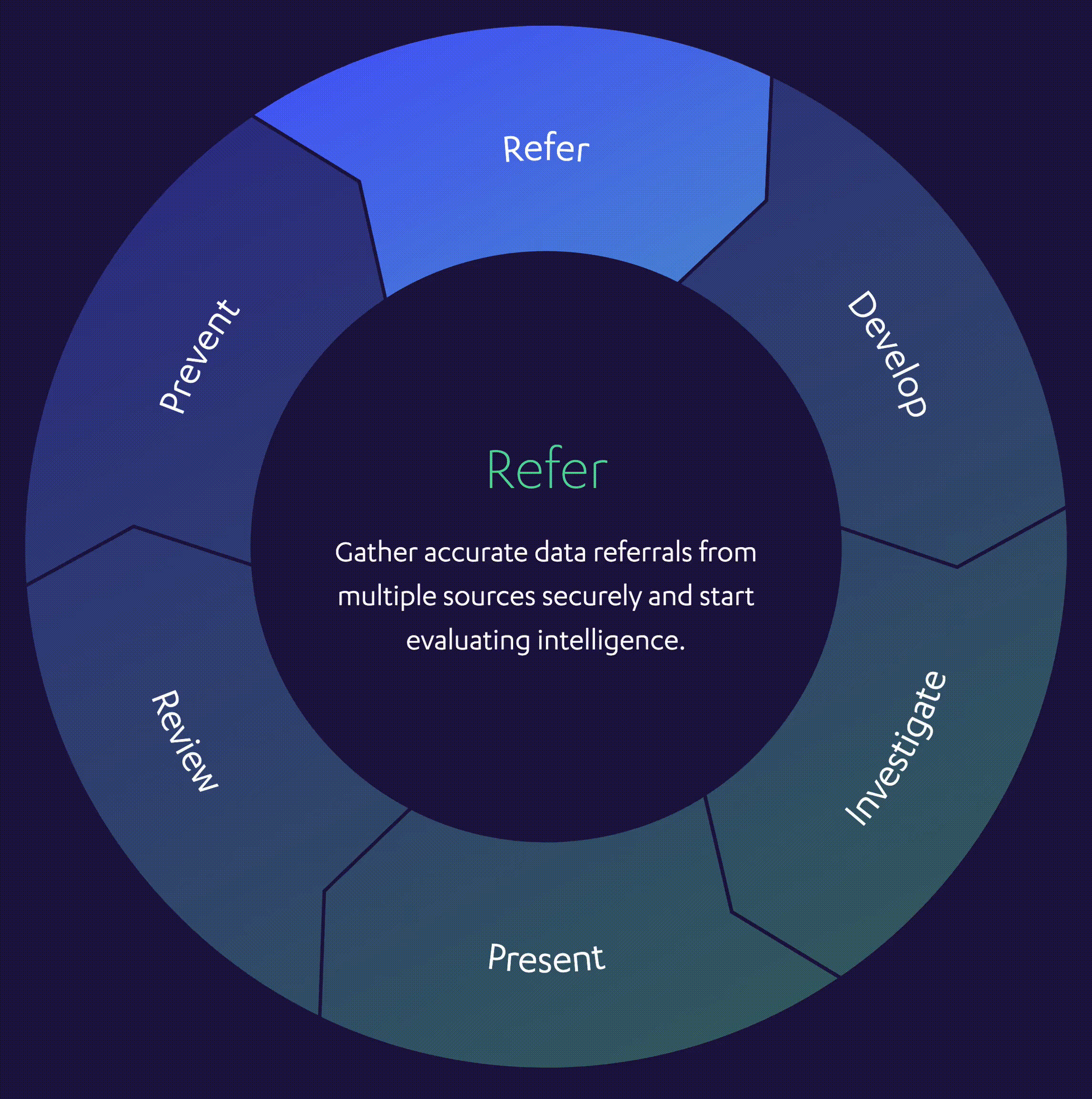 A single application for investigations and intelligence
Conduct end-to-end investigation and intelligence operations with one application, from first referral to case file.